Welcome to the web site of Baker and Lake Decorating - high-quality female decorating service in South London - especially Dulwich, Peckham, Brixton and surrounding areas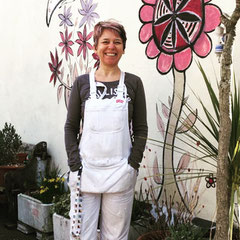 Janet Baker and Claire Lake have been decorating the homes of discerning residents of south-east London for 15 years. Over that time they've built up quite a reputation for the high standard of their work and the effort they put into making things go as smoothly and tidily as possible. Things change, however, and Claire has now moved down to the West Country, leaving Janet to carry on the work.
Her skills still run the gamut from prepping and painting, to hanging designer wall paper and applying special paint effects. Lots of experience means advice is always available too. And if you need any plastering, wiring, plumbing or joinery done, she can sort that out for you.
Over the years B&L have left a string of happy and satisfied customers in their wake - please check out our testimonials page for some of the nice things they've said. And if you're an animal lover, you might like to meet some of their furry friends on Pets Corner.
There's no job too big or small, so if you've got a bedroom, hallway or entire house that needs sprucing up, please call or email to arrange a free estimate. 
Decorating workshops
If you'd like to do the work yourself but don't know where to start, why not ask me round for a one-day decorating workshop, tailor made around your specific needs.